Pierce Heating and Air Conditioning Company started in the San Fernando Valley in 1988 specializing in the service and repair of residential and commercial HVAC equipment. We now are located in Palmdale serving the High Desert and surrounding areas.
In 1990 Pierce expanded to include installation of AC equipment on tract- housing while continuing maintenance and repairs on hotels, apartments, small businesses and restaurants.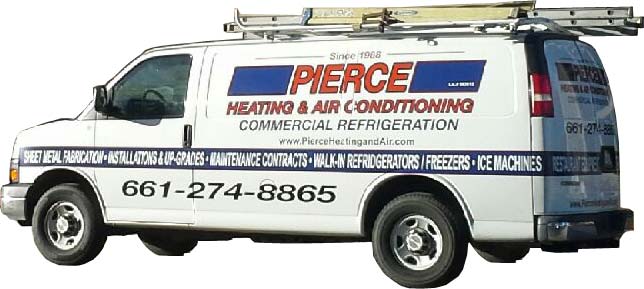 By 1999 Pierce was installing AC on custom homes over 2000 square feet. In addition we serviced commercial buildings, restaurants, hospitals, and shopping centers. We service all types of kitchen equipment including ice machines, walk-ins, warmers, ovens, and exhaust fans.
In 2009 Pierce added sheet metal duct work and general sheet metal available for sale to our customers and general public. We are now bidding large sheet metal projects.
Pierce has been through two major recessions and four Presidents ALL with the same owner and business license. (Contractors license # 562612) Please research my contractor's number, you will not find any complaints.